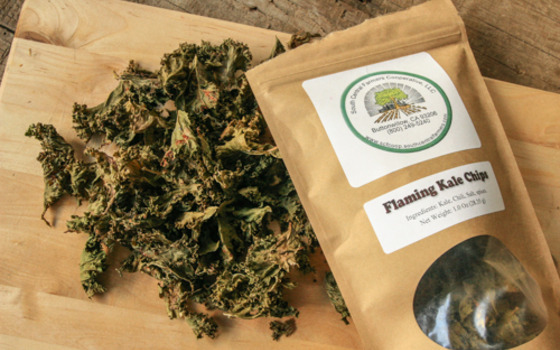 Kale chips rock!!! They are just like chips.
Ingridients:
Get 1 oz of dehydrated Black Kale Chips lightly sprinkled with Chile, Salt, and Lemon flavors.
You have enjoyed our fresh products and now we want to bring you our new line of healthy snacks.
These are a low calorie nutritious snack. Like potato chips, you cannot stop at just eating one. They are great for parties and a good conversation topic.
Kale has something for everybody. The elderly eat kale to prevent age-related macular degeneration. Health conscious parents empty out their kids' Cheetos bags and fill them with one of our many flavor dusted kale chips. A healthy alternative to your regular junk food snack.
Researchers have identified 45—count 'em—different flavonoids in kale. Kale is also high in fiber, packed with antioxidants, and rich in vitamins.